RYA Motorboat Training Courses
We offer the entire range of RYA motor boat cruising courses from the RYA Helmsman & RYA Day Skipper practical courses, through to preparing you for your RYA Yachtmaster exam. RYA qualifications are the standard for Motorboating in UK waters, but will also train you to gain the ICC (International Certificate of Competence) for Motor boats over 10m, if you only intend to operate motorboats abroad. The ICC is required by law in many, but not all, countries across the world. For UK Motorboating, the RYA scheme is recommended, so please read the information below:-
Our Motor Boats Used For Teaching RYA Motor Cruising Courses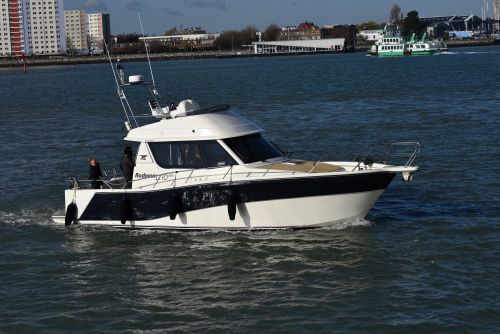 Our Rodman 35ft flybridge is our main RYA training motorboat, running scheduled courses out of our main base in Southampton. RYA motor cruising courses are the gateway to the unlimited motorboat ICC (International Certificate of Competence). In order to skipper a motorboat over 10m in length in international waters you will need to hold the ICC. Obtaining the RYA Day Skipper Practical qualification, is the easiest way to do this.
With her modern electronics and Volvo fly by wire engines, she is one of the most modern boats available to complete any of the RYA motorboat courses on in the UK.
RYA Motorboat Course Ladder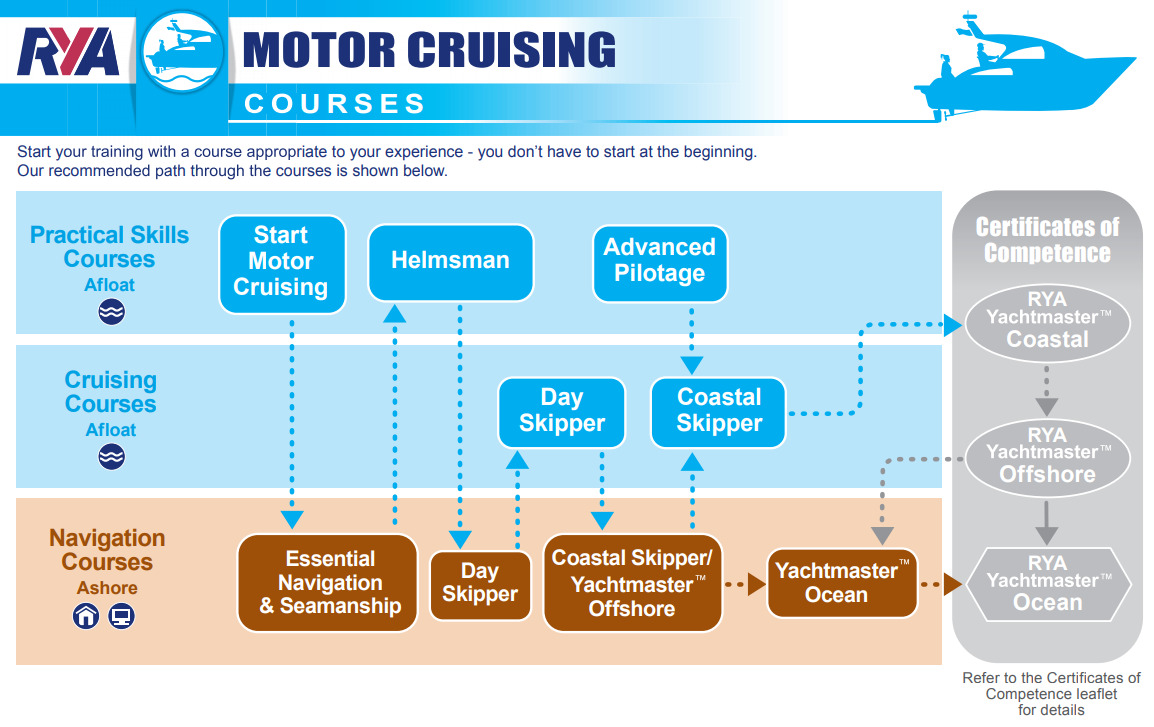 RYA Motor Cruising Helmsman Practical Course from £499
Aimed at the beginner or a new owner of a motor cruiser, this 2 day course teaches the basics of motor cruiser setup, safety and control at a cost from only £499 per person. We find most students have taken the Powerboat Level 2 course prior, but this is not a requirement for the Helmsman course.
RYA Motor Cruising Day Skipper Course from £999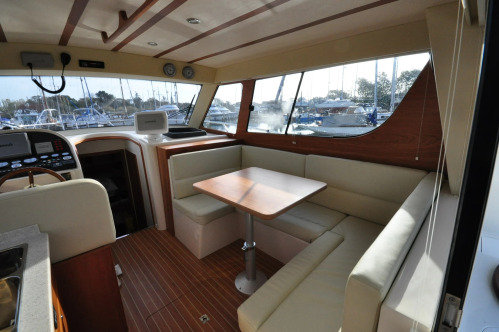 The course aims to teach pilotage, navigation, seamanship and boat handling, to the standard required to skipper a motor cruiser safely by day in tidal waters, with which the student is familiar. Over the 4 days of the course, you will also receive an introduction to making a night passage.
Costing from only £999 per person on our Rodman 35ft flybridge motorboat, this course will allow you to apply for the ICC certificate, for any size of pleasure motor boat.


RYA Motor Cruising Coastal Skipper Practical Course £1299
The 5 day Coastal Skipper course costs from £1299 per person for the high quality experience, that builds on your Day Skipper skills.
Flexible and affordable RYA Motorboat training
All of our motor cruising courses, from RYA Helmsman, to the Coastal Skipper course are delivered by our highly experienced instructors, with their local knowledge of both the area and the abnormal conditions experienced within the Solent. This ensures an exceptional level of RYA motor cruising training can be provided to all clients no matter what their needs may be, and because we own all of our boats (unlike many powerboat training providers) you can be sure of getting the best. Our extensive fleet ensures we're able to offer motor cruising training of all kinds to meet the needs of a whole range of individuals, and with all of our RYA Motorboat courses being top-quality, yet affordable, you've got the best of both worlds.
We can even offer something else into the mix - flexibility. We're able to provide an exceptional level of flexibility in terms of motorboat training dates and times, so no matter when you want to begin your motor cruising courses, we will try our best to accommodate. Most of our courses are offered year-round subject to demand, and if you'd like to make a booking just get in touch or use our easy online booking system to see what's available. Plus, many of our motor cruising courses can be run with up to three students at any one time, with great discounts being available if you invest in group training instead of going it alone.