RYA Motorboat Cruising Helmsman Course - Solent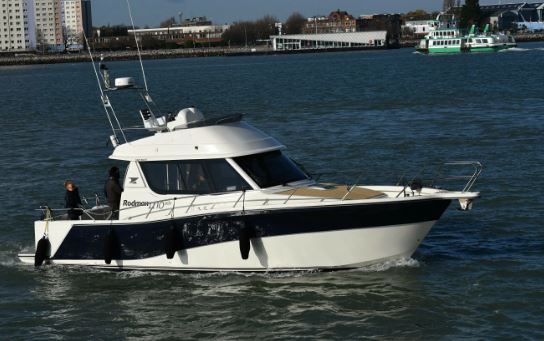 The 
RYA Motor Cruising Helmsman Course
 is perfect for the Motor Cruiser beginner or for those who wish to try their hand at Motor Cruising prior to taking the next step into the bigger boat world.  Also great for friends, family or crew who wish to help the motor yachts skipper with more than just lines and fenders. On completion of the Helmsman course, you will be able to help the skipper of a motor yacht, with time on the helm, mooring, anchoring, basic navigation and more.
If this sounds like the course for you & with prices starting from £499 per person, why not book your place via our

'Live Online Booking Calendar'
RYA Motor Cruising Helmsman - Private Courses for Individuals or Groups
We also offer the RYA Helmsman Course as a private course option. For a fixed fee of £1996 you can enjoy our Rodman 35 including RYA Yachtmaster Instructor, fuel and mooring fees for the 2 days of the Helmsman course. For 1 to 4 students this is an excellent experience at a price that can not be matched, by other RYA school who charter yachts in to run their course. Why not book all four places on our calendar or get in touch to discuss options.
RYA Motor Cruising Helmsman Course Syllabus
The RYA Motor Cruising Helmsman courses includes:

Starting and stopping safely

Low speed manoeuvres including turning in a confined space

Effect of wind & tide

High speed manoeuvring including high speed turns

Planning & trimming

Anchoring

Securing to a buoy

Man-overboard

Berthing alongside
During the two days that the course runs we spend time looking at several of the boats systems, crew responsibilities, boat safety, engine operation, checks and maintenance, rules of the road, and seamanship.