RYA Powerboat Course Level 2 ICC
RYA Powerboat Level 2 ICC Course Summary

From £199 In Southampton
Course Duration: 2 days - 9am to 5pm approx both days

Course Cost: From £199

Course Location: Shamrock Quay, Southampton
Joining Instructions:  Download here
Recommended Reading: RYA Start Powerboating G48 ebook (Included)
Course Prerequisite & Age: 12 Years Accompanied. Under 16 Accompanied
What's In The Course?: Launching and recovery, boat handling, securing to a buoy, anchoring, leaving and coming alongside, man overboard and more. Self-sufficient power boater in the right conditions, aware of own limitations and those of craft.

The 2 day RYA Powerboat level 2 course runs at our Training Centre in Southampton which is an RYA advanced powerboat training centre with direct access to the Solent for our fleet for 10 rib training boats. This RYA powerboat level 2 course is the perfect boat training course for the absolute beginner or a stepping stone to further courses by sharpening those existing skills.

RYA Powerboat Level 2 ICC Course Coastal Course
Our PB2 courses run on full sea going boats that includes actually taking you to sea. We cover marina skills, close quarter handling and much more, then we go to sea and run real routes just like you will in real life.
Also our low ration courses only have 3 students per course.
We feel that training on a boating lake is hardly preperation for going to sea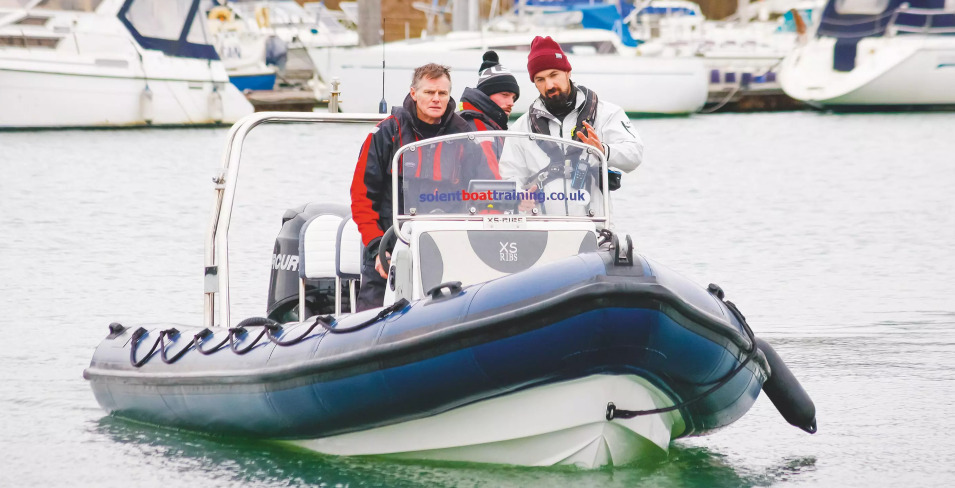 If you dream about boating abroad then the level 2 course also allows you can apply for the
RYA ICC
(
International Certificate of Competence
*) which is a legal requirement to helm a boat of up to 10m in length in many countries outside the UK. So it`s the perfect course for anyone new to power boating or wanting to improve with some professional tuition. We teach the course to anyone over 12 years of age but under 16`s must be accompanied by a parent or guardian attending the same course.
A free voucher to attend the one day RYA VHF Radio Course is included for all our students.
The course runs over 2 consecutive days, prices from £199 depending on the time of year.
Monday/Tuesday - Tuesday/Wednesday - Thursday/Friday - Saturday/Sunday
Why Choose Solent Boat Training For Your RYA Powerboat Level 2 Course ?
Solent Boat Training is one of the UK`s larger powerboat training centres with one of the largest fleet of boats based on the English south coast. With 10 rib powerboats, 2 motorboats and 11 sailing yachts , so definitely not a " one man and a boat" operation. Our 7 classrooms & training workshop are all within the marina allowing us to run the whole RYA training programme including powerboats, motorboats, sailing and all the lovely theory courses.
These are the main reasons you should learn with us.
Free RYA VHF Radio Course
RYA Powerboat Training Centre Fleet of 8 Rib Powerboats Ranging From 6.0m to 7.5m
Central Southampton Location With Parking Available
Training Workshop & 7 Classrooms Within The Marina
Full Range Of Follow On Courses Available & Bespoke Events
So a summary of what's included :-
RYA Powerboat Instructor & Rib Training Boat, including fuel
Waterproof gear and lifejacket
Classroom with charts, books, tea & coffee
RYA "Start Powerboating" ebook with completion certificate
Apply for your ICC on completing this course
*An ICC processing fee is payable to RYA if you are eligible
Previous Experience Required: None
Our fully inclusive RYA Powerboat Level 2 ICC Training Course costs from just £199 to £349 depending on the season for this 2 day course with parking onsite available.
We can run powerboat courses from any suitable Solent marina including Southampton, Lymington, Yarmouth, Cowes & Hamble.
RYA Powerboat Level 2 Details
We run the full coastal & planing version of the powerboat level 2 course. This is the highest and most versatile version of the course that will enable you to helm a boat on any type of water including rivers, lakes or the open sea.
The Solent Boat Training RYA powerboat level 2 ICC course includes preparing a boat, safety equipment, chart work, buoyage, marina handling, planning speed manoeuvres, anchoring, gps, vhf and much much more. Your course book and certificate are included in the course fee. With a maximum of 3 students per course you will enjoy that personal touch from our RYA Instructor over the duration of the 2 days. If you are booking more than 1 place we will always try to put you all together on the same course, but this is not guaranteed.
We can run a course on nearly any date for bookings of 2 or more students if the open course dates below don`t suit. Our base at Shamrock Quay Marina, in the heart of Southampton, is within easy reach of London and most of the South East via its excellent motorway and rail links. We also have a massive selection of Hotels, Bars, Bistros and Restaurants available to make your 2 days on the course, very enjoyable.
We spend a large percentage of this powerboat course in the open waters of the Solent & Southampton Water. We actually run a passage from Southampton to Hamble to give you a real taste of powerboating. A choice of powerboats depending on experience with the choice of 10 high power ribs all run by our school we can match the perfect boat to our students.
If you are looking at booking more than 1 place and wish to be together on the same course please call before you book. We run multiple courses with a maximum of 3 students per course.