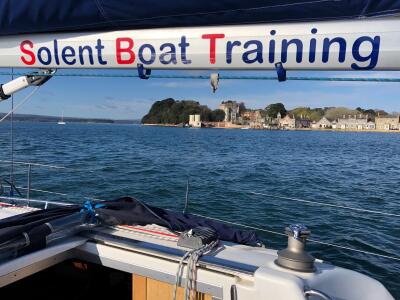 RYA Recognised Training Centre
Our RYA Yachtmaster and Advanced Powerboat Instructors can provide Boat and Marina/Harbour specific tuition anywhere in the Solent. Whether it be Power or Sail we have you covered.

As a RYA Recognised Training Centre, operating in the Solent and Southampton Water, our Instructors are very familiar with the Solent and its surroundings, making them the perfect fit for all your own boat familiarisation needs.
​​​​Reasons for choosing Own Boat Tuition/Familiarisation:

Recent purchase of a boat which is new to you and looking for familiarisation on different systems



Refamiliarisation due to a change of Berth/Marina

Solent Familiarisation Day

New ports and harbours exploration day

Foul weather handling day

Navigation systems and Routing

RYA Training on your own vessel
Solent Boat Training can offer both Bespoke and RYA training courses on board your own boat. A list of the courses Solent Boat Training offer can be found here; 
https://www.solentboattraining.co.uk
We are proud to offer Boat Training and familiarisation on board Powerboats, Motorboats and Sailing Yachts in all Marinas around the Solent and Southampton Water.
Familiarisation Days
 have proved useful to our students, following RYA Courses or a new purchase. As a result, you may already have a good idea of what you'd like to achieve and we are happy to chat and advise you on the best way of completing this. If you are not sure exactly what you what you want or need, following a discussion over a morning coffee, we can plan the day out for you, according to your specific needs.
Your day is designed around your requirements, with time spent both discussing and carrying out the various exercises, you feel least comfortable or confident with.
Maybe you have crew members who are new to the boat or even boating as a whole and you'd like some assistance in getting them to a competent level, where both you and they can be more confident, in the skills of leaving and/or coming along side a pontoon, anchoring & mooring or just general boating.
The Possibilities are Endless

At the end of your day, we will offer feedback on what to do or where to go next, to ensure you gain the most from your training with us. Whether this be additional Own Boat Training and Tuition or whether completing a RYA Training Course would prove beneficial, allowing you to moving onto the next step of your boating venture.

Advice is also at hand regarding routine checks and maintenance , that you may consider completing yourself and also where to find local professional services to suit your needs.
Read what our Clients have said about our Own Boat Tuition...
Mark


 5 months ago
Hamble Le Rice

1 week ago
"I have a Legend 33 and she's lovely; post securing Day Skipper; I couldn't wait to get her out but the "tidal" Hamble river got in my way too often and without bow thrusters, it was nerve racking with a high dependency on crew to get me in and out safely. Today, thanks to SBT, I come and go as I please and now sail her single handled whenever I prefer visiting other marinas in the Solent without concern. Sam took me to another level and I now have the confidence and a much deeper understanding of how my boat reacts to tide and wind and can take the best course of action and know when best to take it to achieve the preferred outcome. Sam is a fabulous instructor and his easy and personable style combined with his passion to see you take full control early in the training process made all the difference."