RYA Day Skipper Theory Classroom Course From £249 In Southampton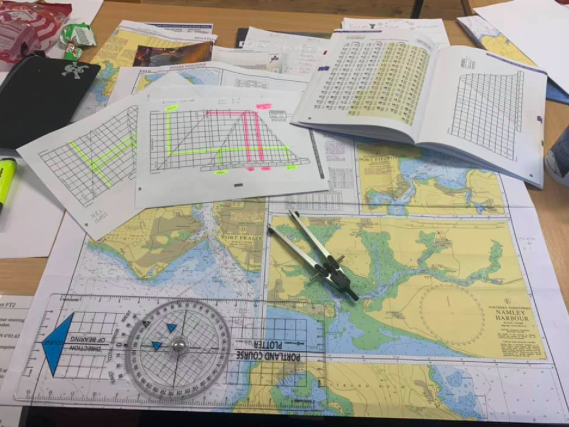 Our 
RYA Day Skipper Theory Course
 is available in a choice of formats. We only run classroom based courses because of the large amount of contact time with our experienced instructor, not just watching on screen presentations like many fully online courses offered by online only companies . We also limit our courses to 
just 8 students
 per course rather than the normal 12 students as recommended by the RYA.
We also offer the full range of supporting courses such as Day Skipper Sail, Day Skipper Motorboat & Powerboat to Advanced Level, so you can build a relationship with a single training centre.
Classroom Based Day Skipper Theory

The first being run over 5 consecutive days, the second being 2 weekends including a Friday making up the 5 days. Available at our Southampton training centre classrooms within Shamrock Quay marina with onsite parking available.
Our course fee includes all the equipment and tools needed to successfully complete the course. Unlimited tea and coffee is included. Also included within the course fee is the RYA Day Skipper Shorebased Notes student pack.
During the 5 days of the course you will work from 9am to 5pm each day ( we do stop for lunch & coffee breaks ! ) with sessions of instructor lead tuition followed by exercises to consolidate the new knowledge. Starting with safety and seamanship, then moving onto navigation and more. A small amount of homework will be given each night as we need to meet a 40 hours of tuition guideline.
Classroom vs Online RYA Theory Course
We Do Not offer this course online, as we strongly believe that time in the classroom, interacting with other students and our RYA Yachtmaster instructors, will give you the strongest result. Most students find this contact time invaluable. We feel a highly experienced and qualified instructor will explain many areas of the course more clearly than pictures and words alone, whilst adding context and explanation through real life examples. Why pay an average of £300 for computer graphics when you can have a real instructor for the same or less that will bring the subject matter to life.
It is also worth noting unless you attend a RYA Recognised Training Centre for Assessments, that your theory completion certificate from an online course, will be marked "NOT INVIGILATED".
This would mean that you could not commercially endorse a RYA Day Skipper Practical qualification.  Please check if this is suitable for your usage, when completing an online course, if in doubt do call for advice.   
Some online course providers do offer an invigilated exam option, usually at an addition fee.  Solent Boat Training classroom courses are always invigilated. Therefore our courses are accepted by all without restriction.
Many online providers don`t offer practical courses unlike SBT who offer the full range of courses. So our Day Skipper theory course not only covers the course syllabus but is designed to prepare you for the practical day skipper course. 
In 2022 we saw a big increase in students failing to reach the correct standard on the Day Skipper Practical course, due to weak theory knowledge.  Please note that an online "not invigilated" certificate can not be used to complete an RYA course action plan.
<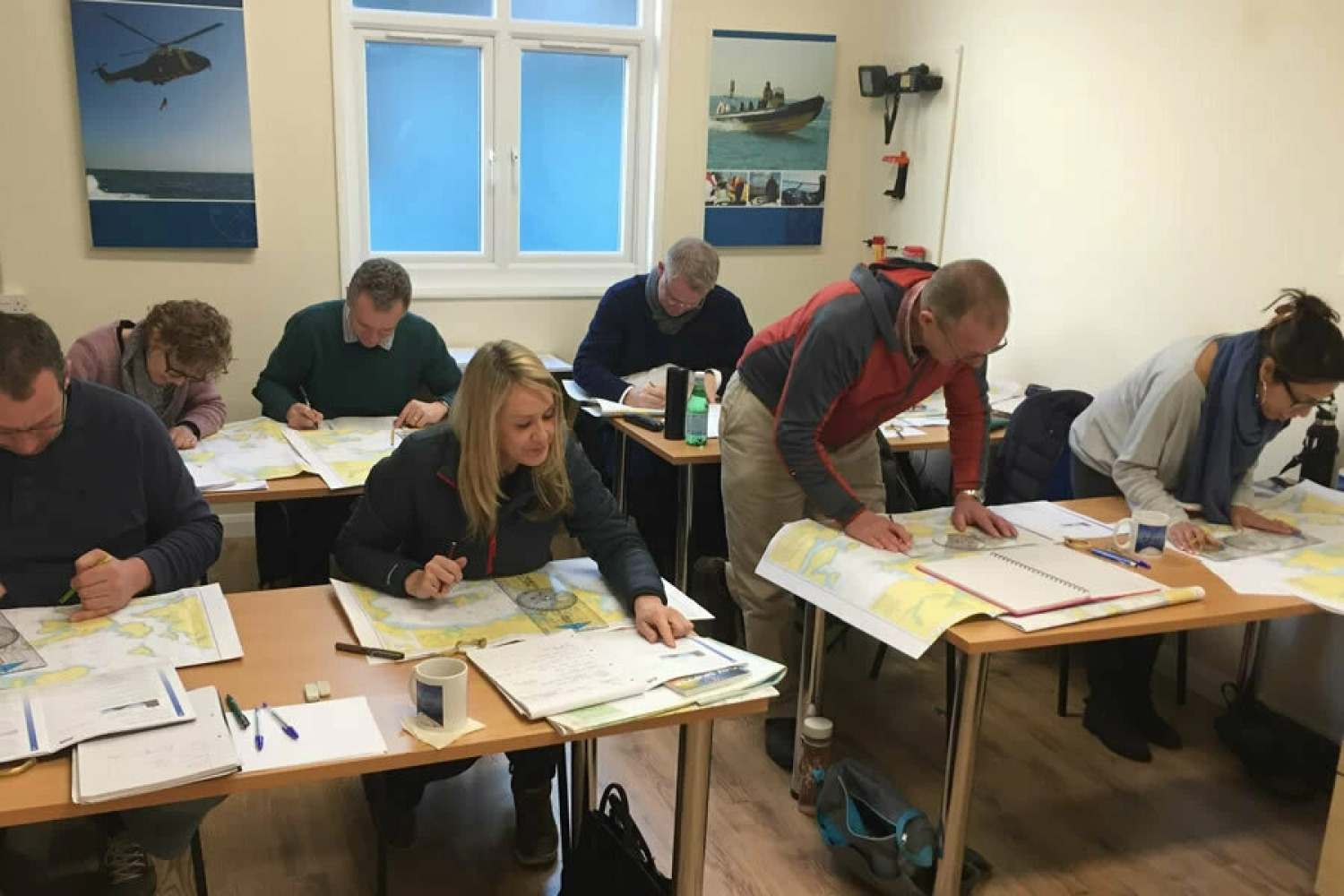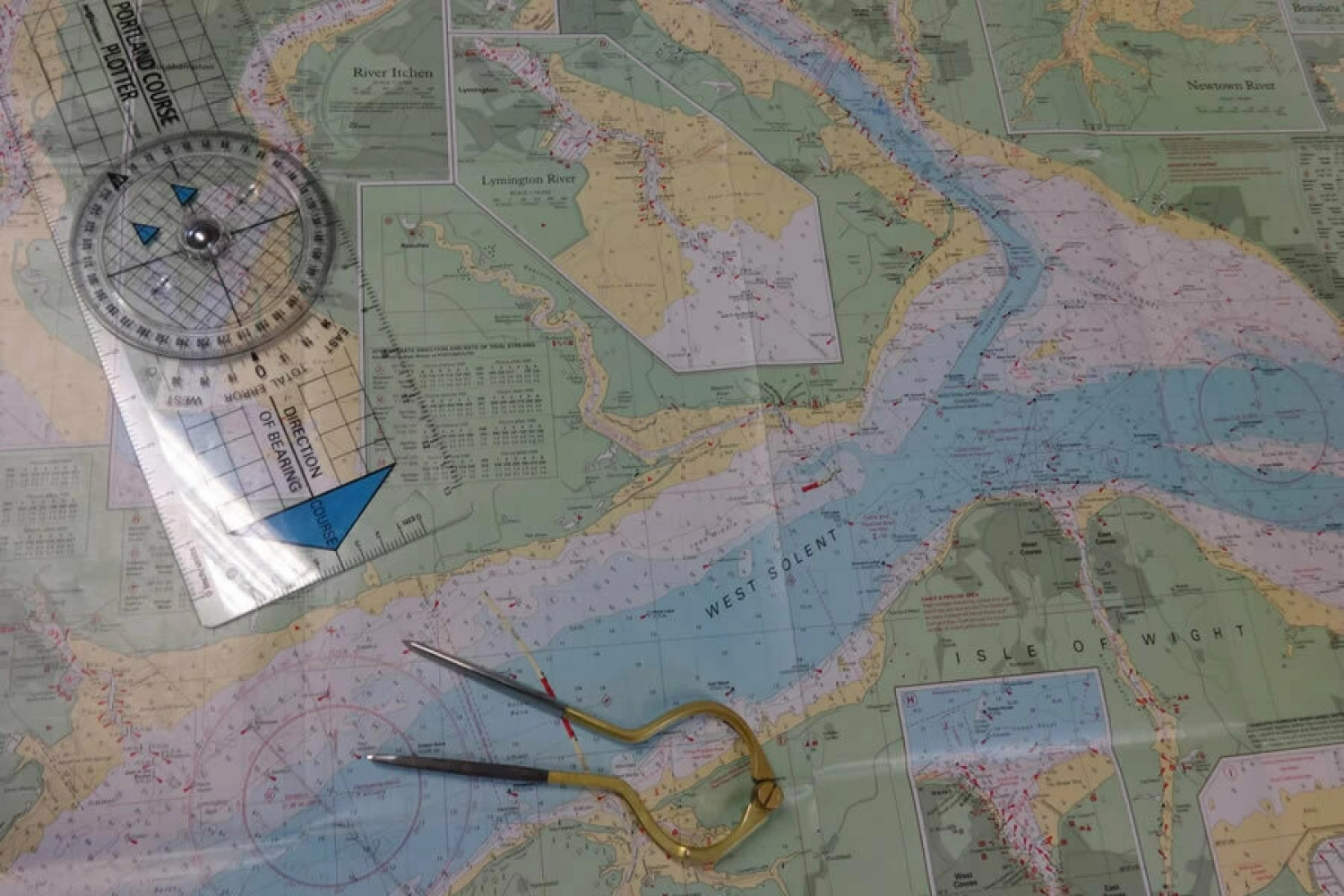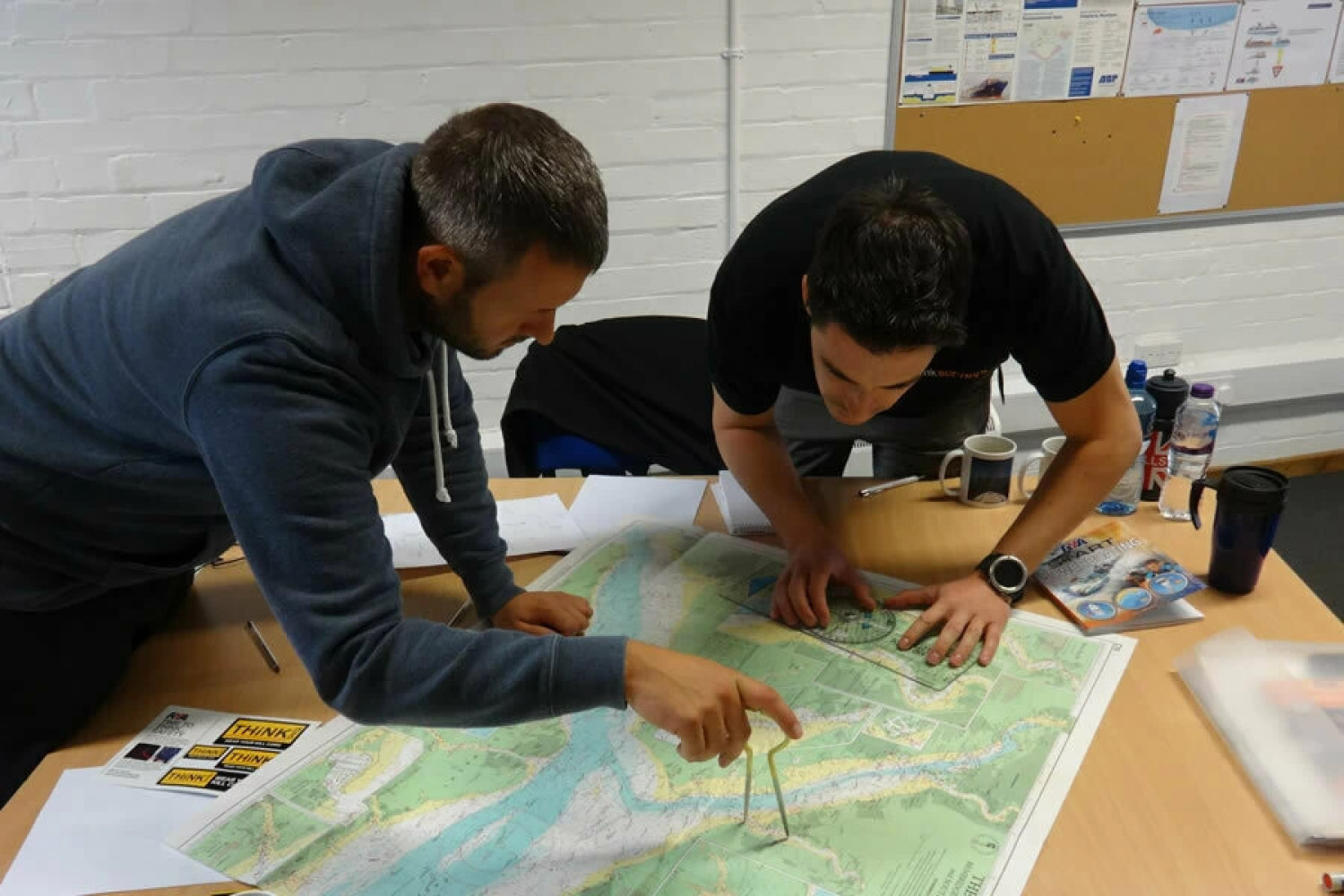 >
RYA Day Skipper Theory Courses In Southampton
The RYA Day Skipper Theory Course is an introduction to navigating in familiar waters by day. You will also have a brief introduction to lights in order that you can use these to navigate by night during your Day Skipper Practical Course for power or sail. The course is also suitable for those taking the RYA Intermediate Powerboat course, although not a pre-requisite.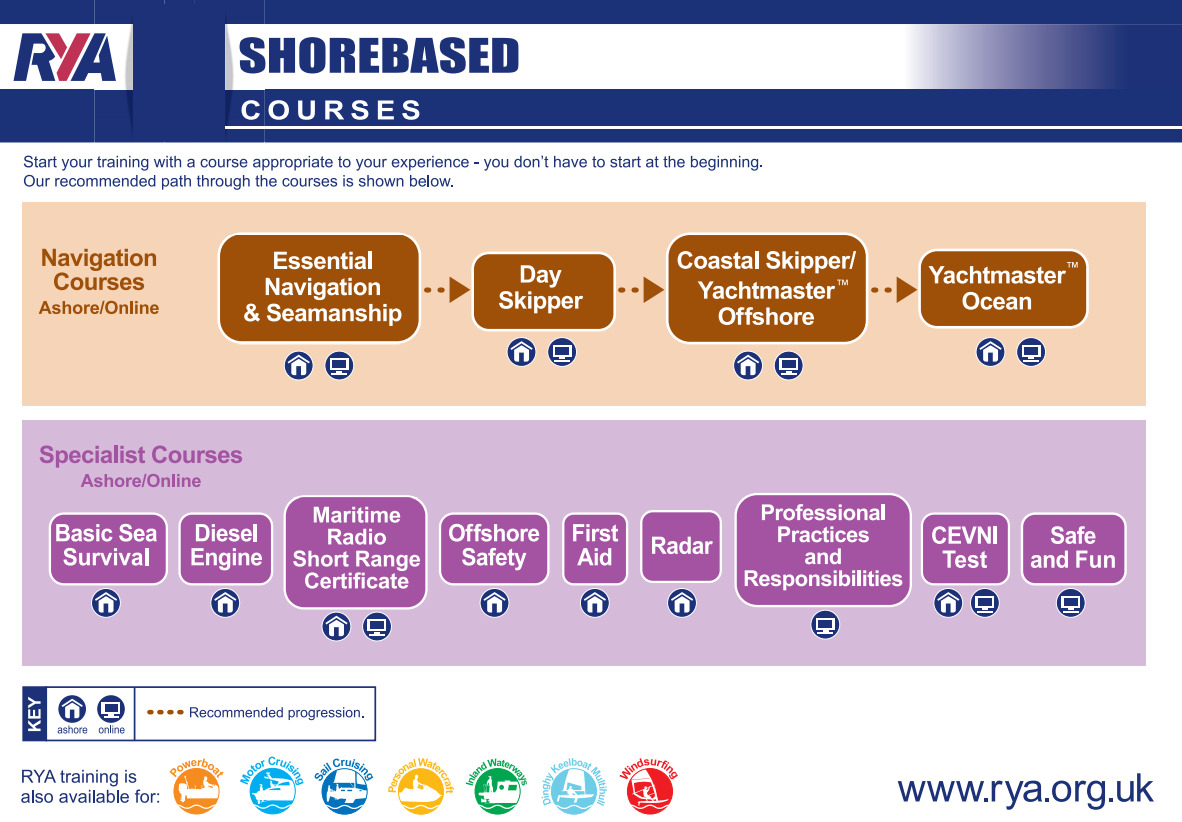 RYA Day Skipper Theory Customer Reviews
Just spent a week with SBT doing the classroom Day Skipper Theory course. Tom our instructor couldn't have been more patient and understanding when it came to presenting information and getting it into the heads of a mixed bag of people old (me) and young, quick and slow learners (me again).  Good facilities and clear concise information delivered in a way, that made it all make sense.  Thank you Tom and SBT, really pleased I did this course in a real life environment and not struggled along with an 'on line course' at home scratching my head. I now feel much more confident and am looking forward to the next step - the SBT 5 day Day Skipper practical course already booked up!  SBT Reviews 17/04/2022
A 'Doff of my cap' to SBT for their well structured and delivered DS theory course. Sean our instructor has a wealth of practical knowledge and added real training value to the theory. There were periods my brain hurt and id forgotten my own name but a raise of a hand was met with help and support needed. A great learning environment and positive learning experience. Thank you SBT.  SBT Reviews 01/12/2021

"I have just spent 5 days split over 2 weekends doing my Day Skipper Theory Course with SBT. I decided to use them after reading reviews on here, so only fair to do the same. If you are thinking of doing it online.....don't, the classroom together with others and a very good instructor is the place to learn. Tom (2) was great to learn with and I very much enjoyed the experience, I am already booked for the practical course, again with SBT." Tripadvisor 16/10/17 
"I recently attended this course and would completely recommend using Solent Boat Charters & Training. Our instructor Matt was very knowledgeable and enthusiastic and took us through quite an intense course at the right speed and with good humour. I am very pleased I chose to do this course in the classroom rather than online and that I used this company. It works well to break it up across over 2 weekends as there is a lot to take in." Tripadvisor 23/02/17
"I have just completed my 3rd course with SBT (Day Skipper Theory) having previously completed my VHF & Powerboat Level 2. During all 3 course from the moment of booking to completion SBT have been great, warm, friendly and helpful company and people. Nothing was too much trouble, the courses themselves were well taught and informative. With regard to the Day skipper Theory I did my first course of the essential Nav course (pre cursor to day skipper) on line with another provider . After doing the VHF & PB2 I looked at doing Day skipper theory and SBT do not provide this course on line and their website intro states why. Boy are they right!!!!! There is only one way (for me at least) and thats in the classroom, this provides immediate feedback and allows for the subject to be learnt clearly. You also get to interact with other students and this in its self can assist with the learning process. For me now it has shown me there is really only one way to learn this and that with others in a classroom. Thank you to all at SBT especially Sam for PB2 & VHF and Sean for DST. Special mention to Callum thanks for the support & good luck with your practical!" Tripadvisor 19/09/16
"I had thought of doing an online course, but I would recommend doing this one with face to face contact with an excellent instructor." Tripadvisor 08/02/17
Why Not Do Your Day Skipper Practical Course With Us As Well ?
With a fleet of 4 Bavaria 37 & Bavaria 38 yachts from offering an excellent range of courses, skills days and mileage builders. We firmly believe our training centre has a wealth of resources and experience.
RYA Day Skipper Course Syllabus
Subjects covered include:
The Basics of Seamanship
The Essentials of Coastal Navigation and Pilotage
Chart Work & Electronic Charts
Position Fixing
Plotting a Course to Steer
Weather Forecasting & Meteorology
Tides
Collision Regulations
Emergency & Safety Procedures including Distress Calls, the use of Flares, Safety Harnesses, Lifejackets and Liferafts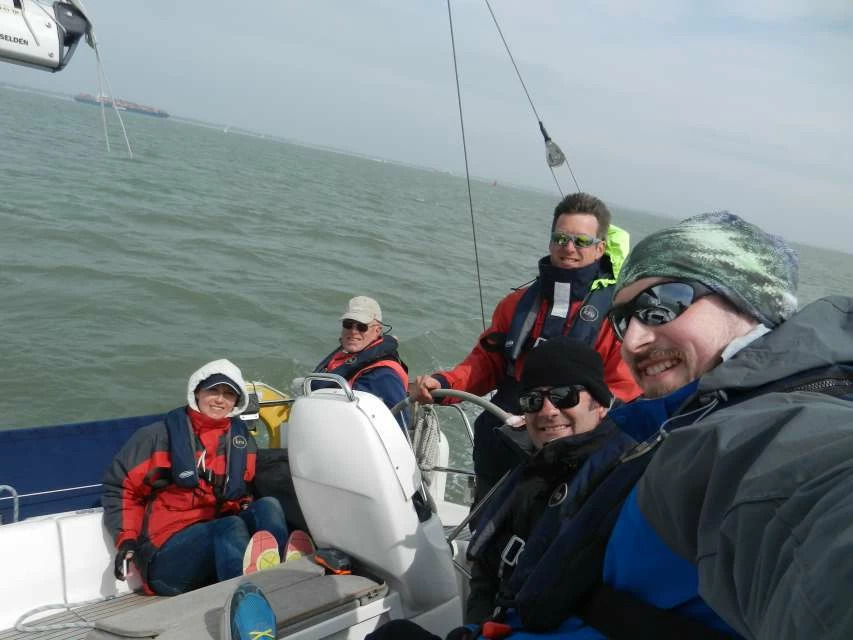 * RYA VHF Radio courses need to be booked separately.