Solent Day Sailing Experience
Solent Boat Charters runs Solent Day Sailings from our Southampton marina base. These are run on our 37ft and 51ft yachts and are perfect for the busy waters of the Solent.
Our Bavaria 51ft yacht called "In Rainbows" out of Shamrock Quay in Southampton offers a different type of day, where you can enjoy the sights and bustling waters of Southampton and the Solent. 

Full waterproofs & life jackets are always provided, so just come in sensible footwear and we will do the rest. Tea, coffee and soft drinks are always included, but you will need to bring along your own lunch.
Your Professional Skipper will take you on a tour of the Solent on one of our Bavaria yachts.  The skipper will help you to be as active as you wish, allowing you to get involved in the sailing of the yacht.  We encourage everyone to get involved, but if you would rather sit back and just enjoy the view, then that`s fine also.
Many of our guests use these days to sharpen their skills or introduce friends to the world of sailing. We list these days on our training calendar, but they are very simple sailing days, not a formal course and open to all. 
Age limit of 18 plus (12 - 17 years old are allowed with an accompanying adult).
A Choice Of 3 Yachts - In Rainbows, Gallifrey & Ecos
 In Rainbows - Bavaria 51 Cruiser (Shamrock Quay - Southampton)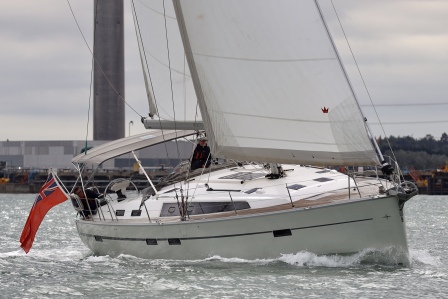 In Rainbows 
has just joined our fleet offering day sails and private charters for groups of up to 10 guests in addition to your skipper and crew. This Luxurious 51ft Bavaria Sail Cruiser, will give you an insight into the world of luxury yacht sailing. Our Southampton & Solent based sailings are run out of Shamrock Quay Marina and will offer you the ability to experience sailing within the Solent with the aim to take in some of the iconic sights.  With Single Day Sails starting £99 per person and include the use of waterproofs where required, why not book up today. "Live Booking Calendar"
Gallifrey - Bavaria 37 Cruiser (Southampton Shamrock Quay Marina)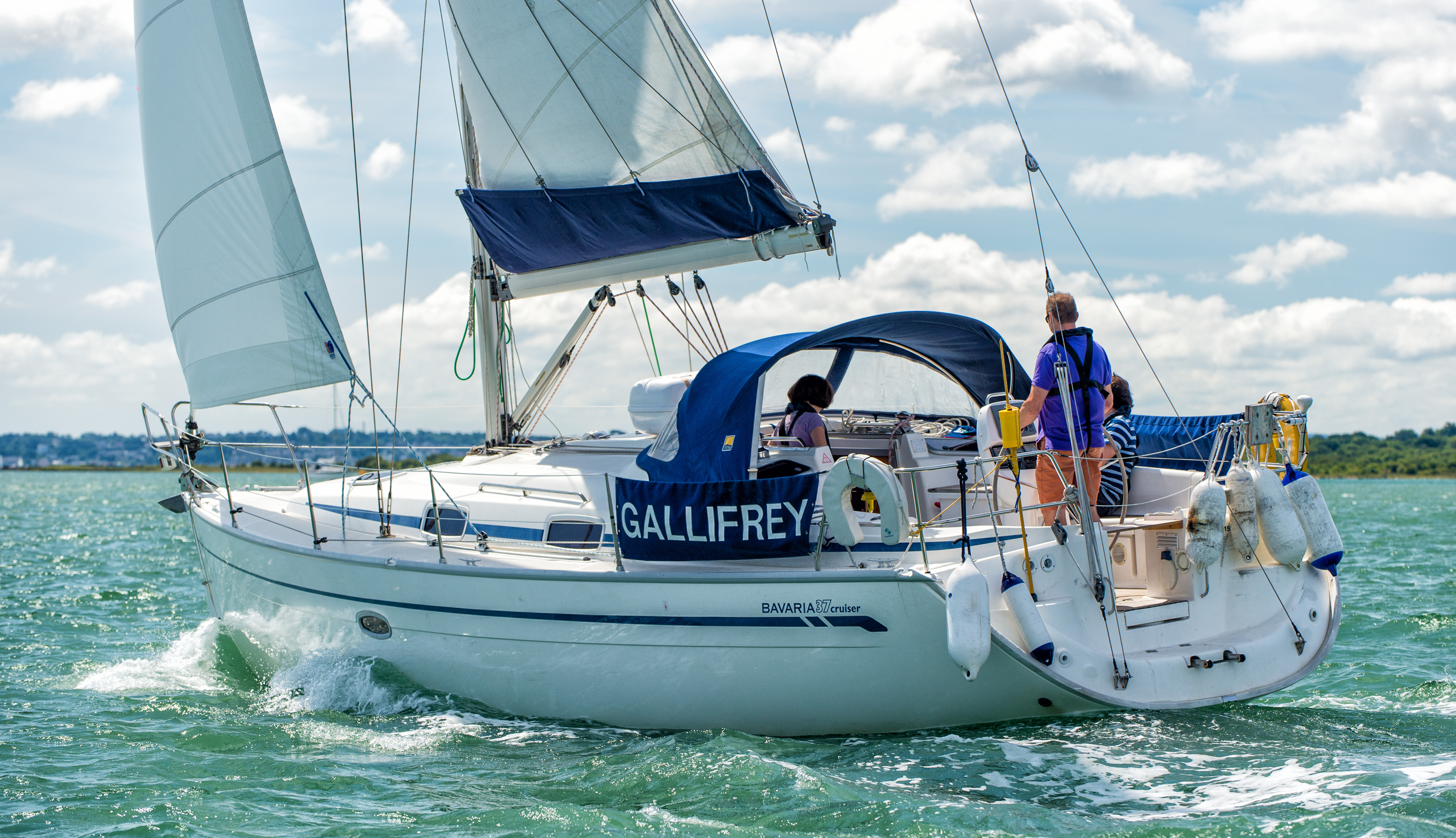 Gallifrey is a Bavaria 37 Cruiser licensed for 7 guests but we limit our day sails to 5 plus skipper. To enjoy Solent day sails costing from £99 per person, the limit of 5 guests make this a perfect way to try your hand at sailing. 
Gallifrey is the type of yacht we use for all of our RYA Sailing Courses, including RYA Competent Crew, RYA Day Skipper & RYA Coastal Skipper course. She is also available for private day charters, which includes a Waitrose Buffet Lunch. Private Day Charters for up to 7 guests cost £800.
Gallifrey sails from Shamrock Quay in the heart of Southampton. Days start at 9am finishing at approximately 5pm.
Ecos - Bavaria 37 Racer/Cruiser (Southampton Shamrock Quay Marina)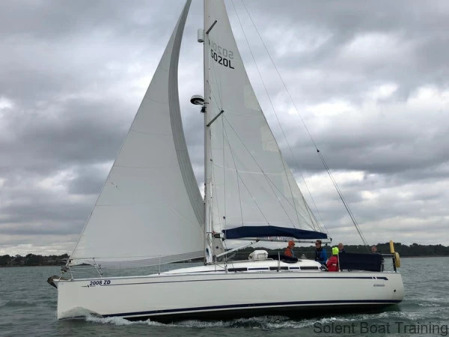 Ecos is our very own flying machine. What this means is - she is fast! She is licensed for 6 guests to enjoy a full-on day sail in the Western and Central Solent, costing from £99 per person.
Ecos is also available for private yacht charter for up to 6 guests costing from £599 per day. Ecos is best suited to clients with some sailing experience and looking for a wind in the hair type of day. She`s not happy if we try and slow her down.
Ecos
 sails from the Shamrock Quay Marina, Southampton
. Days start at 9am finishing at approximately 5pm.
More details of Ecos Sailing here.
Booking A Solent Day Sail

So it`s simple, open our booking calendar via the link below and look for our Solent Sailing Days costing from just £99 per person.
So be with us by 9.00am or you will miss the boat, literally. Eat your lunch at anchor somewhere in the Solent taken on board and returning at about 5.00 pm. Minimum age 18 or 12 with accompanying adult.
Please feel free to bring a small amount of alcoholic refreshment with you, but know that you will not be able to take part in the sailing of the yacht once you have consumed any alcohol, but sit back and enjoy the sail. These events run from March to October each year. Lunch not included.